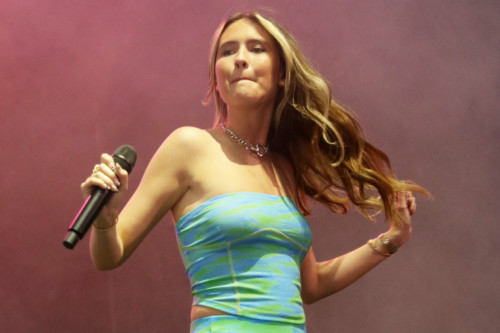 Mimi Webb too busy making music to look for love
From viral TikTok fame to sold-out tours and chart-bothering hits: Mimi Webb reflects on her journey to becoming a rising star and shares details about her highly-anticipated debut album 'Amelia'.
"Oh, I've always wanted to be a huge pop star," grins Mimi Webb. Following the release of her debut EP 'Seven Shades Of Heartbreak' at the tail end of 2021, the past twelve months have seen the 22-year-old singer living out those ambitious, glitzy dreams. There's been her own UK headline tour, a run across North America supporting Tate McRae, festivals and TV appearances. She even crashed the UK singles chart with the snarling revenge anthem 'House On Fire', which reached Number 6. "I was always just very driven. I wanted to be huge. I wanted to be a superstar," she continues before pausing. "I think we're getting there." You can say that again.
With the release of her debut album Amelia, a European tour, and festival season on the cards, life is showing no sign of slowing down for Webb.
She started out by recording herself singing songs in her car, getting friends and family members to react to emotional lyrics and choruses. Thanks to her honest lyrics, it didn't take long for a fiercely loyal audience of fans to form around her. Her vulnerability makes her relatable, and as each song has graced the charts, the fans have become increasingly more devoted.
Despite "dreams upon dreams" coming true throughout 2022, it was still something of a warmup for Mimi Webb. Her debut album 'Amelia' is swaggering pop album that'll turbo-charge her rise.
Now Mimi Webb is putting her love life on the backburner as she marches on in her mission to become Britain's next big pop star.
The Good Without singer shared that her globe-trotting job had impacted past romances.
'Work really has affected relationship stuff for me. When you're touring… I think, for someone to understand that whole concept is tough,' explained Mimi, 22, whose full name is Amelia.
She reckons it would make more sense to date somebody in the industry.
'If someone understood that whole world and we got on, and it worked well and there was the connection, then I definitely would.' She added: 'I've had two proper boyfriends in my life and they were "normal", friends of friends – people I have known for years.'
Meanwhile, Mimi, from Canterbury, has been spreading her wings after recently moving into her own pad in London.
'I've done it for four months, properly, on my own. It's very new for me. At the start, I didn't like being on my own. I don't know why. I think I was just sad and all over the place… [but now] I'm loving it,' she smiled.
Last month, Mimi lost out in the Brits best new artist category to Wet Leg but she is forging ahead with her debut album Amelia, out now.
'I didn't want the record to be one thing. I wanted to be able to have the fun songs, the uplifting songs, the sad songs,' she said.
'But it's also not all about break-ups. I wanted it to be about the growth of me as a person. Who Mimi is and who Amelia is, and how their worlds collide.'
Author Profile
Feature Writer & Interviewer

Email https://markmeets.com/contact-form/