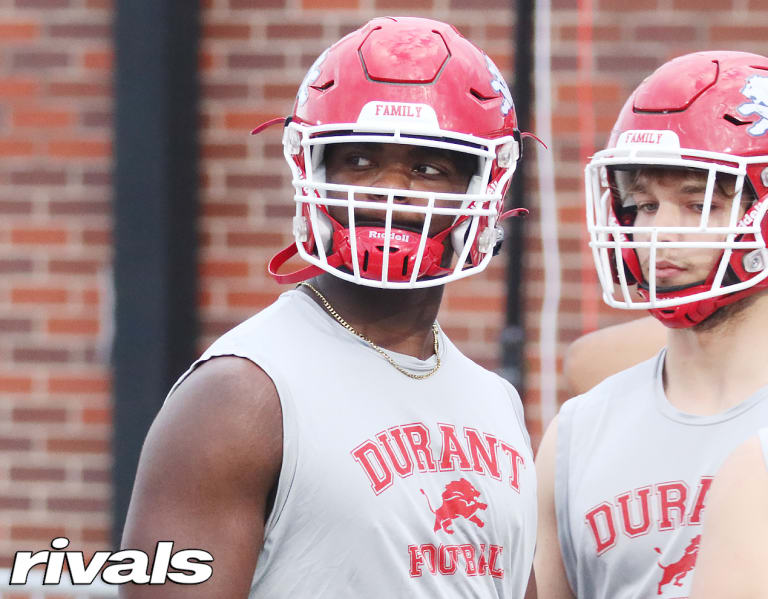 No. 1 prospect in Oklahoma, four-star Xadavien Sims, discusses contenders
Upon the release of the new rankings in the 2024 class, Durant (Okla.) four-star defensive end Xadavien Sims has put a firm grip around the No. 1 spot in the state of Oklahoma with his entrance into the top-75 nationally.
His performance during his junior season has schools from across the country in heavy contact as Oklahoma, Michigan, Michigan State, Miami, Oregon, Georgia Tech, Texas, Cal, and Vandy are just some of the programs Sims has engaged with in recent weeks.
Sims is fresh off of an unofficial visit to Oklahoma on Jan. 28 for the Sooners' junior day where he was able to connect deeper with Brent Venables and defensive line coach Todd Bates as the Sooners continue their pursuit to keep Sims within state borders.
"They've been keeping it real since my sophomore year when Coach Bates offered me," Sims said. "We've always had a great relationship, he's been recruiting me good. Coach Venables hits me a lot and that's big for me to keep that constant relationship with the head coach."
Michigan State has been another major contender because of his relationships with Mel Tucker and pass rush specialist Brandon Tucker along with his connection with 2023 four-star signee Bai Jobe.
"Coach Tucker is a great dude and he has a great program," he said. "Coach BT is one of the best pass rushing coaches in the country. He can develop me to get me to that next level."
Along with Michigan State, Michigan is a program that Sims will take a visit to this spring as he explores his Big Ten options.
"They're a powerhouse team and have been very successful recently," Sims said about the Wolverines. "It's a great program that I could definitely see myself playing in."
Oregon made a trip to Oklahoma to see Sims during the January contact period, and Sims plans on returning the favor with a trip to Eugene on April 21.
"They came down here to see me before the dead period," he said. "I'm gonna get up there on April 21 and hit Oregon."
Sims will also see Miami this spring as defensive ends coach Rod Wright has been able to make an impact in his recruitment.
"It's a great school," he said. "I talk to Coach Rod. It's a great relationship. I'm excited to get out there and have a good time."
As for his commitment plans, Sims plans on taking his official visits beginning in the summer before coming to a decision after seeing everything he wants to see.
"I'm definitely gonna take these OVs and then after these OVs, I'm gonna look at my list and decide where I'll fit best and where I'll go," he said.
TCU is the only program Sims knows that he will spend an official visit on as he will head down to Fort Worth on either June 8 or June 15.
"My uncle played there," Sims said. "My family are big TCU fans and I like the school. I've been up there quite a bit. It's a good gameday experience and it's close to home. Coach McFarland is one of my favorite coaches, he's a real dude. They're coming off a great season too."
At 6-foot-4, 260 pounds, Sims is ranked as the No. 74 recruit in the country for the class of 2024, according to Rivals. He is the No. 1 prospect from the state of Oklahoma and the No. 8 strongside defensive end in the country.