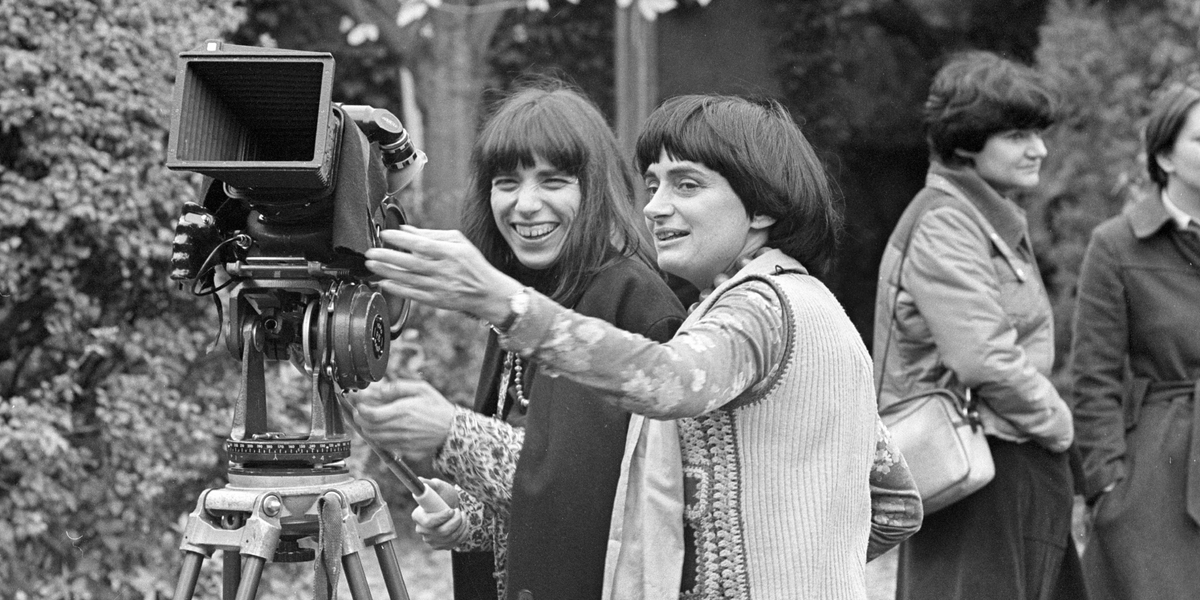 The Best Dressed Female Directors in History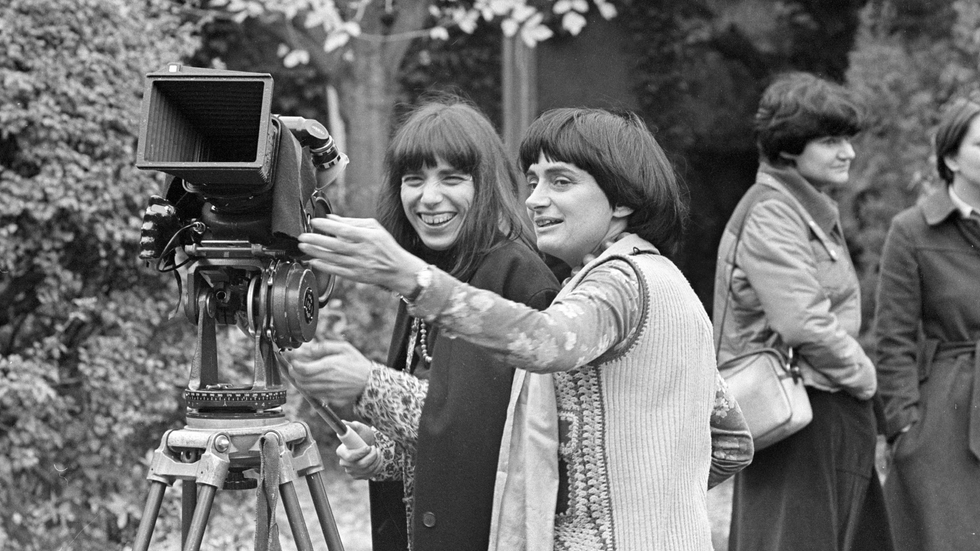 Back in my film school days, I had a teacher that played a delightful prank on the class. "Who here can name 10 film directors?" she asked. A male student raised his hand and smugly rattled off a laundry list of his heroes. Then my teacher said, "Now, name five female directors." The boy said, "James Cameron's wife…" then fell bashfully silent. I've found that if you repeat this same parlor trick, no matter the audience, you almost always get the same response.
With the Oscars right around the corner, our feeds are already inundated with "best dressed," "most iconic," and "sexiest whatever" lists surrounding the buzziest films of the past year. Amidst all the film media blitz, a few key industry players are rarely asked about their personal style: the directors. As they sit at the helm of the aesthetic and stylistic choices we love most about movies, this seems like a glaring oversight. Enter @directorfits, the Instagram account dedicated to filling that void with an archival library of outfits worn by everyone from Stanley Kubrick to Spike Lee. In honor of Women's History Month, I sat down with @directorfits admin, Hagop Kourounian, to spotlight the on and off-set fashions of our most beloved female directors.
We all have the same caricatured image in our minds of how directors dress: "fishing vest, trucker hat, and aviator sunglasses," says Kourounian. While many directors do artfully integrate practicality in their style, their personal aesthetic choices can be just as intentional as the signature style of their films. From Agnès Varda's bowl cut to Sofia Coppola's influential streetwear moments, below is a look at the on-set styles of some of our most beloved, boundary-pushing directors.
1. Chantal Akerman
Chantal Akerman styles her suit jacket with a polo shirt collar popping out and her pants unbuttoned while smoking a cigarette at the Venice Film Festival, where she premiered her romantic film 'Toute une Nuit' (1982).
Photo: Raymond Depardon
"I think this is one of the best posts I've ever had on my page. It's such a good outfit. With the pants, blazer, and polo underneath, it gives the impression of a suit but in such an effortless, lived-in way. I love the way she styled the polo collar over the blazer and she has [her] pants unbuttoned. I'm not sure if that's on purpose, but it's so cool. Guys should take some notes on how to style their suit from this."
2. Kathryn Bigelow
Kathryn Bigelow pairs a big caramel-colored blazer with light-washed jeans and a faded t-shirt on the set of 'Point Break' (1991).
Photo: Firooz Zahedi
"Wearing the oversized blazer is very indicative of the early '90s, but when paired with the light-wash jeans and the vintage shirt, it feels like an outfit that says, 'I'm the boss here.' There are so many other photos where she repurposes menswear—sunglasses, Spielberg-style promo caps, oversize tees—which directly contrasts with her red carpet looks that are more classically feminine. I see a lot of female directors co-opt the clichéd style of male directors. Whether it's to be taken more seriously in a male-dominated industry, to subvert the trope, or simply out of practicality, it's an incredible statement look on Bigelow."
3. Janicza Bravo
Janicza Bravo wears Marni Fussbett Sabot loafers, Bode multi-patch corduroy trousers, a YSL knit, and a hemp Esenshel hat with the parrot from her Miu Miu short film, 'HOUSE COMES WITH A BIRD' (2022).
"Janicza Bravo is one of the few contemporary directors we see all over fashion week. She has such a playful personal style which is reflected in the all-incredible brands she's wearing in this photo. The Bode pants with all the patches are a one-of-a-kind piece that compliments her unique approach to fashion. I love the proportion of the YSL sweater over the flowy, loose, button-down. She's wearing a Russian cuff hat that was definitely her go-to headwear around 2021-2022. The hat brand, Esenshel, is one she wears very often and I think she has a personal relationship with the designer. She is also wearing Marni Fussbett furry loafers which look phenomenally comfortable for an all-day shoot. She differs from other directors because she has so much crossover with the contemporary fashion world. This outfit is an art piece all on its own."
4. Sofia Coppola
Sofia Coppola and Stephanie Hayman wear yukatas by Hysteric Glamour while DJing at the 'Lost in Translation' wrap party in DUNE magazine issue No. 27 (2004).
Sofia Coppola brings heavy gorpcore energy to the red carpet with this GERRY snow jacket over her dress as she walks with a Lacoste-laden Spike Jonze at the premiere of 'Before Sunrise' (1995).
"Sofia Coppola is a nepo baby who used her powers for good. Having interned at Chanel with Karl Lagerfeld in the '90s, Coppola is no stranger to high fashion. This first photo was taken at the wrap party of Lost In Translation and she's wearing a yukata-style dress from the streetwear brand Hysteric Glamour by Nobuhiko Kitamura. He was a good friend of Sofia's and took her around to all the cool Tokyo nightclubs which ended up being a huge part of the film. He's even an extra in some of the party scenes with Bill Murray.
"In the second photo, she's with Spike Jonze at the premiere of the Linklater film Before Sunrise. Similar to Claire Denis, she's wearing this puffer jacket on the red carpet, but she's clearly wearing a very premiere-appropriate outfit underneath. I love that she is subverting the outfit with this big, gorpcore, snowboarding jacket. This type of styling is so common now with the rise in technical gear like Arc'teryx and ROA Hiking. Outdoorsy products are very much in vogue, but this is such an interesting choice for the '90s."
5. Tamra Davis
Tamra Davis wears an @xlarge_us hat on the set of 'CB4' (1993).
"I love this outfit, not only because it's on the set of CB4 (one of my favorite movies), but because it's a perfect encapsulation of her style ethos. In an interview, Davis said, 'When I was younger, I went through a punk rock era, so I wore really simple boyish clothes. I tried not to look too cute or sexy because I knew that I didn't want to be perceived like that… I wanted them to think of me as somebody that they have to listen to.' In the photo, she is wearing an X-Large brand hat—a popular '90s streetwear brand that Kim Gordon spun off into X-Girl–which is a nod to her husband Mike D from the Beastie Boys who started the X-Large brand. Davis continues saying, 'My directing outfit is so specific. I like wearing button-down shirts. I don't like to show any cleavage. I don't wear heels. I don't show legs. I wear nice clothes, but they secretly are fancy. I try to look almost more like my crew.' Like Bigelow, she co-opts a more masculine style on-set which compliments, not only for the practicality of her role, but as a way of embracing her punk rock roots."
6. Claire Denis
Claire Denis wears an @alphaindustries N-3B parka while taking a smoke break with Beatrice Dalle ahead of a screening of 'Trouble Every Day' (2001).
"Seeing people smoke cigarettes is a kind of romantic signifier of a recently bygone era. I chose this photo because I love the contrast between their two coats. Claire Denis is wearing the N3B parka, a coat first issued by the US Air Force in the mid-forties and typically used in arctic temperatures. For a film screening, you'd think that Denis would opt for something like the typical fur coat of her friend Dalle, but I love that she opted for this rugged and rough style."
7. Amy Heckerling
Amy Heckerling attends the premiere of her film 'Clueless' in a skirt and combat boots while wearing a cardigan over her shirt and skinny tie. She completes the look with a pink fuzzy backpack, sunglasses, a barrette, and Bronson Pinchot in hand (1995).
"This is such an interesting photo because it takes place on a beach in Malibu for the premiere of Clueless. Much like her notable films Clueless, Fast Times at Ridgemont High, and National Lampoon's European Vacation, Heckerling plays with this kind of punk-rock, pop-femme aesthetic with an edgy sense of humor. She pairs a fuzzy pink backpack and gigantic combat boots with the preppy combo of a tie, cardigan, and skirt. I love this look, especially [because of] the clips in her hair. It looks Clueless-y in a punk rock way."
8. Gina Prince-Bythewood

Gina Prince-Bythewood wears a @thenorthface Nupste jacket during the production of 'The Secret Life of Bees' (2008).
"She is most known for Love & Basketball from the 2000s, but this is on the set of The Secret Life of Bees from 2008. I love seeing cold film sets just because the whole crew is dressed well—particularly costumed actors—but out of necessity the outfits are always offset with a huge jacket. Everyone loves a North Face and this is a better example of someone rocking one because unlike most people getting coffee in Soho, she's actually using it. I also think green is a more slept-on color. You usually see the brown from Kendall Jenner or the triple black or the blue, but the green feels like a little bit more of a left-field choice."
9. Halina Reijn
Halina Reijn wears a @girlsontopstees Isabelle Huppert shirt, a @sandyliang Jansport Fleece jacket, an @ariesarise shirt, and a promo hat from her own film during the production of 'Bodies Bodies Bodies' (2022).
"There aren't a lot of contemporary filmmakers on this list, but Halina Reijn's style perfectly reflects the modern, self-reflexive, edgy sentiment reflected in her film Bodies Bodies Bodies. In the photo, she's wearing a Girls On Top tee—a brand dedicated to celebrating female voices in film—sporting the name of famed french actress Isabelle Huppert. She's also wearing Sandy Liang and a London streetwear brand Aries Arise. Halina's style feels very representative of our current zeitgeist and I think, looking back, it will be a perfect snapshot of the early 2020s."
10. Agnès Varda
Agnès Varda and Jacques Demy in Normandy (1960's).
Agnès Varda and Jacques Demy, the most chic couple in film (1973, 1965).
Agnès Varda wears Italian skiwear brand, Anzi Besson, on the wintry set of 'Vagabond' (1985).
"The first two photos show her eccentric personal style and the last photo shows her at-work ensemble. I love the way she accessorizes with her viewfinder. It almost looks like a necklace paired with her scarf, hat, and Anzi Besson ski jacket. She looks way more rugged as she towers over whoever is taking the photo.
"Varda, like Coppola, was very involved with the art scene. She was best friends with Andy Warhol and landed the first cover of Interview Magazine. Both her films and her personal fashion are layered, colorful, and have as distinct a style as her signature bowl cut. You can see in her off-set styles that she is very particular about color. In one interview, they asked if she was wearing purple and she promptly corrected them saying, 'No, it's Bordeaux.'"
11. Doris Wishman
Doris Wishman's filmography is often described as cheap and erotic but these outfits—in contrast to her films—are chic and opulent.
"She's one of the lesser-known names on this list, and I'm obsessed with her story. After her husband died, she needed a steady income to care for her family. She learned that there was this new rule in portraying nudity in films, and she saw it as an opportunity to make these nudist films with great nuance, story, and set design. To be clear, they're very much still borderline pornography films. Towards her later career, the films become more sci-fi oriented, and the aesthetics are so beautiful. In the few photos that I've found, she clearly has this old Hollywood glamor thing going on with all the patterns, dresses, wedge heels, and the dangly gold earrings. She wears sunglasses often, which brings a little bit of edginess to such a chic look."
Follow @directorfits for more.